Sunday Brunch 10:00am-3:00pm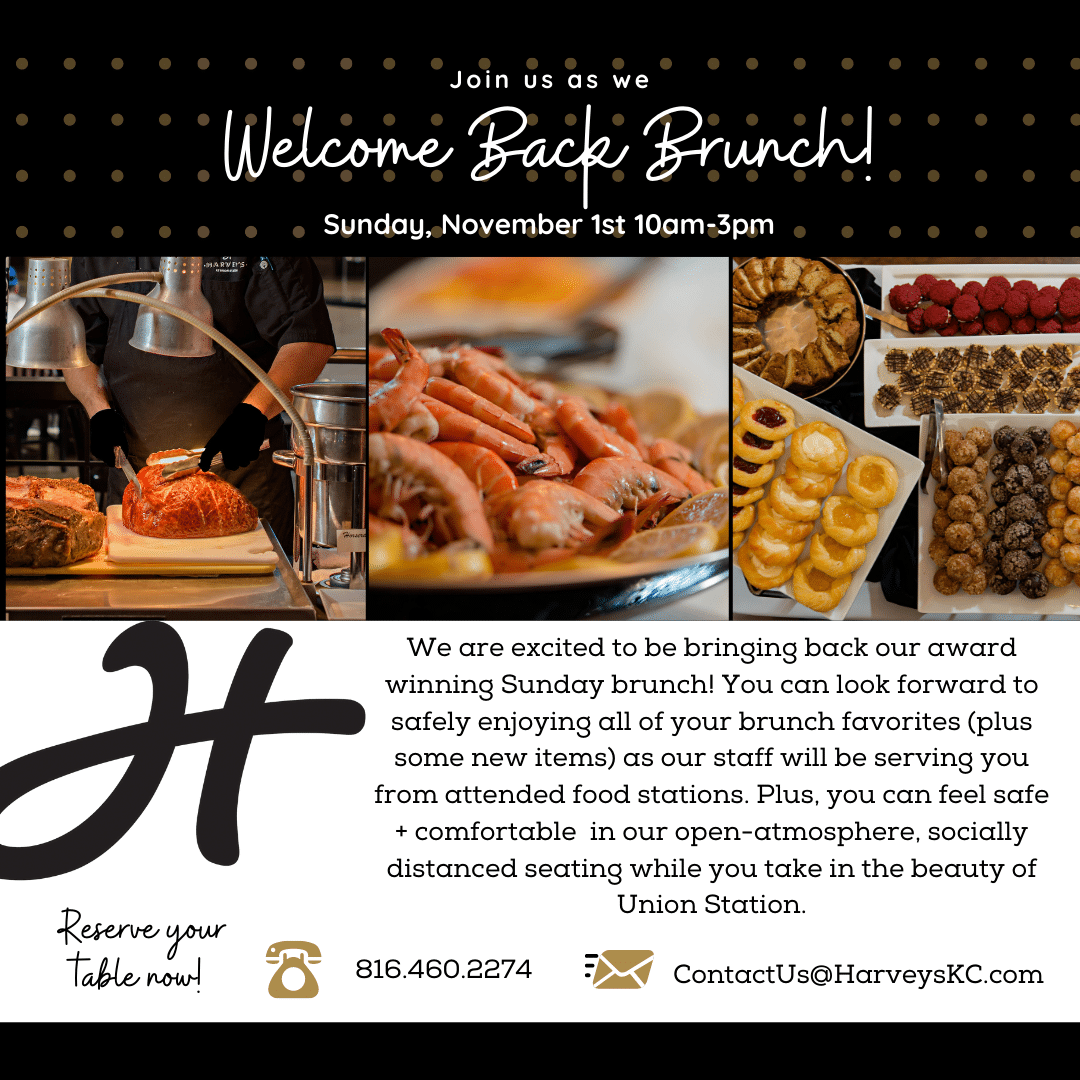 We are excited to be bringing back our award winning Sunday brunch! You can look forward to safely enjoying all of your brunch favorites (plus some new items) as our staff will be serving you from attended food stations. Plus, you can feel safe + comfortable in our open-atmosphere, socially distanced seating while you take in the beauty of Union Station.
Want to make a reservation?
Or reach out to 816.460.2274
or Reservations@HarveysKC.com
$28.50 per person; $15 children 4-12 yrs old Drinks sold separately
Carving Station
Prime Rib of Beef | Glazed Ham
Coarse Mustard | Creamy Horseradish | Fresh Baked Rolls
Hot Station
Scrambled Eggs | Quiche
Brown Sugar Bacon | Breakfast Sausage
Mashed Potatoes + Gravy | Chef's Vegetables | Waffles
Brancato's Famous Fried Chicken | Buttermilk Biscuits + Sausage Gravy | Roasted Potatoes Peppers + Onions | Chef's Fish Feature
Gourmet 4-Cheese Mac + Cheese | French Toast Bake
BBQ Chicken Legs
Cold Station
Peel + Eat Shrimp | Smoked Salmon
Garden Salad | Caprese Salad | Pasta Salad
Fruit Salad | Roasted Vegetable Salad
Mini Bagels | Cream Cheese + Butter
Muffins | Danish | Mini Cinnamon Rolls
Assorted Desserts
Tableside Ordering- guests to place order with server
Traditional Egg Benedict | Made-To-Order Omelette
*items are subject to change